South Coast Beaches in Mombasa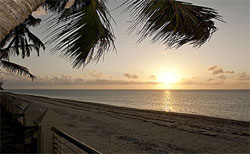 Both the North and South Coast beaches of Mombasa are beautiful and perfect for holidays. Here, we will focus on the South Coast destinations.
The coastline south of Mombasa is a tropical paradise of palm tree lined white sand beaches, where the gorgeous blue waters of the Indian Ocean join large coral reefs. The reefs have protected the coastline and created ideal beaches with calm, inviting waters.
Most days are sunny and the nights are warm. Gentle sea breezes sweep the beaches day and night. The offshore reefs are alive with coral, myriad fish, sea turtles, and dolphins. Both outer and inner reef walls offer world class diving with spectacular coral gardens and drop offs. The beaches are surrounded by vibrant green coastal rainforests with a huge variety of bird and wildlife including baboons, monkeys, and even some large cats.
World-class resorts provide a wonderful choice of places to stay around Diani beach. This is the more heavily touristy part of the South Coast. Visitors can relax and enjoy the natural beauty of Mombasa beaches with the best standards of accommodation, service, and cuisine. The south coast also has many smaller quiet getaways such as Tiwi Beach, ideal for travelers looking for a more low-key holiday.
Traveling inland you will find the Kwale District, which is a group of small tribal villages. The Wakamba, Digo, and Duruma tribes inhabit this area. Further south, the small fishing village of Shimoni is home to a series of deep, mysterious coastal caves that stretch from the sea to deep into the jungles. Historically, these caves were long used as a refuge for Dhow Sailors, Arab slavers, and explorers.
On the south coast, there are many choice dhow trips for snorkeling, diving, and dolphin spotting in the Wasini channel, which include stopping off at an island for a Swahili lunch. Alternatively, bird-lovers can opt for a motorboat trip to the mangrove channels to catch sightings of grey herons, fish eagles, cormorants, and kingfishers.
Whether you're looking for sport like hunting and fishing or simply want to relax, the South Coast of Mombasa has everything you could hope for. There is culture, activity, beauty, and wildlife – the perfect holiday destination.