3 Great, Fun Things to Do in Mombasa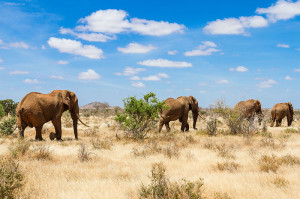 Mombasa is, for many people, the dream getaway. With the tropical climate and beautiful white sands being gently lapped by the Indian Ocean waves, you can simply relax by the sea and take in the sun or experience the full vibrancy of this city.
You can go scuba diving or stick to snorkeling if you have an interest in the colorful marine life that teems within these waters. You may choose to hang out by the hotel pool, sipping on mud slides while sitting by the pool bar, or walking down the beach with your loved one.
For those who want to experience a bit more than this, you can check out a few of the amazing attractions, including Fort Jesus, the Amboseli and Tsavo excursion safaris, and the Main Market.
Fort Jesus
Fort Jesus is one of Mombasa's key tourist attractions. It sits along the harbor and was built by the Portuguese in 1593 as a way to dominate the local Swahilis, to show their strength and intimidation. However, they didn't hold onto it for very long.
Even though it is somewhat dilapidated due to the years and battles, it is still an impressive and imposing form. The walls are made of coral and it's a site to behold.
Amboseli and Tsavo Excursions
Kenya is renowned for its wildlife and just outside of Mombasa you will be able to join in a safari to see wild elephants and other animals that are indigenous to Africa. This is a trip that would provide a lifetime's worth of memories. If you do nothing else but relax on this trip, make sure that you check out one of these excursions.
Main Market
When you walk down the main market, you might think of it as a run down building, but it offers some of the freshest fruit and vegetables that you'll find anywhere in the city. You'll likely also run across a number of local specialties that will highlight the culture that this city offers.
For more information about other things that you can do when you're in Mombasa, contact Find Mombasa Hotels today.