Bamburi Beach Hotel Mombasa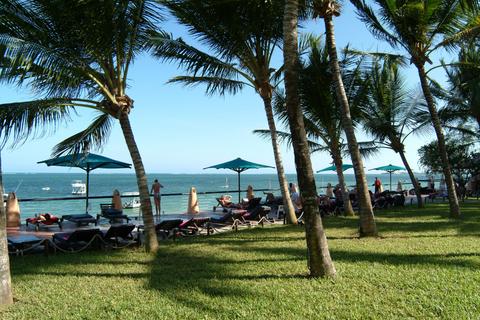 Situated on the coast of the Indian Ocean north of Mombasa, Bamburi Beach Hotel Mombasa offers many amenities for a comfortable hotel stay. The hotel is located 23 kilometers from Moi International Airport, 12 kilometers from the Mombasa city center, and is a 20 minute drive. Mombasa is Kenya's second largest city after Nairobi and is a city full of cultural diversity and historical background.
There are a total of 150 rooms in the three storey white-washed hotel complimented by the Arabic architecture inside and outside. Each room comes with a host of amenities such as air conditioning, balcony, high-speed internet access, coffeemakers, full bathrooms, television and DVD player, and in-room safe. In addition to the standard amenities, the rooms offer either two double beds or a queen bed and a single bed. Business travellers will appreciate the availability of an air conditioned conference room with seating for 150 people. This all-inclusive hotel includes all meals with the exception of purchases from the mini-bar.
In and around the hotel you will find many other amenities as there are two swimming pools, one at the front of the hotel and one in the rear, and a Jacuzzi. For guests with children, there is a pool specifically for them as well as an activities centre. Other amenities include air conditioned squash courts, table tennis, pool table, fitness centre, beauty salon, hotel doctor on-call, currency exchange, daily laundry service, water aerobics, as well as other sports activities. Water activities include scuba diving, snorkeling, windsurfing, deep sea fishing, canoeing, and many others.
Since the hotel is located next to the ocean, it has a private white-sand beachfront as well as a boardwalk. With stunning landscaping in and around the hotel, guests also have the opportunity to lounge on sun beds under umbrellas provided by the hotel. In the evening, guests have the opportunity to participate in many activities such as live music, disco dancing, watching traditional dancing shows, cabaret shows, acrobatic acts, live music bingo, and crab-racing on the beach.
Other features of the hotel include restaurants and bars. There are three restaurants on site. Ziwani Restaurant is the place where all meals are served including staged theme dinners three evenings per week. Ziwani caters to international, vegetarian, and Indian food. Karibu Grill serves seafood as well as other meat dishes, plus snack food items such as pizza, burgers, sandwiches, and pancakes for tea time. Fisherman's Cave specialises in seafood and guests receive a 20% discount for dinning there. Four bars are available to guests and are located throughout the hotel such as the Dhow Bar, Karibu Bar, Pool Bar, and the Fisherman's Cave Bar.
While the hotel offers many activities, there are many local attractions to consider. Mombasa Tusks is at the entrance of town which was built to commemorate Queen Elisabeth's visit in 1952 as a symbol of trade. The Old Town offers a unique perspective for travellers to see the reminiscent of the Arab influence in Mombasa. There are many Hindu temples to see in the city in a culturally diverse city and many of them offer tours. Haller Park is another popular animal sanctuary with many different species of animals, reptiles, insects, and botanical gardens. The Bombolulu Workshops is another attraction, founded in 1969 for the Association for the Physically Disabled in Kenya as the Cultural Centre.