Best Beaches in Mombasa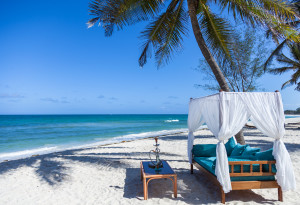 Mombasa has a plethora of beautiful beaches stretching down to the Tanzanian border. These beaches are part of the attraction of taking your holiday in the city. Mombasa is known for its laid back atmosphere; and the beaches only add further to that feeling. It is the perfect place to unwind, relax, and enjoy natural surroundings. Depending on the beach you visit you will have a variety of activities to choose from daily. Here are the best beaches Mombasa has to offer:
Nyali Beach is the first beach to the North of the city. It is the most easily accessible beach from Mombasa, which adds to its popularity. Nyali has a gorgeous lagoon where you can kite surf; this is a unique feature you won't find at any of the other beaches. It is also home to many of the area's most popular hotels making it a great spot to stay and experience all Mombasa has to offer.
Diani Beach is one of the best-known beaches by international tourists. It is located south of the city and boasts tranquil waters and picturesque white sand. The surrounding reefs protect the area and make it a perfect spot for ocean swimming. During the high season this beach can get rather crowded. It is lined with souvenir stalls, beach houses, and luxury resorts. It is focused on tourism so there are a lot of activities and people; it is great for those who are looking for a lively holiday.
Another popular beach for a lively crowd is Bamburi Beach. It is north of the city and known for its excellent restaurants and busy nightlife. There are a number of fun nightclubs for those looking to party. It is one of the top spots for water sports like snorkeling, scuba diving, and water skiing. You can also experience dhow cruises and Camel rides on this beach.
If you're interested in snorkeling and fishing, Malinda Beach is for you. This is where you will find Malinda Marine Park, which is one of the best places for diving and other exciting water sports around Mombasa. This is also the best place for avid fishermen. At certain points during the years the trade winds and tropical currents bring in an influx of fish and makes for great big game fishing. You can choose to stay at any number of resorts or private guesthouses located on deserted beaches or in the forest. This is a unique beach you should be sure to visit even if you decide to stay somewhere else.
Finally, if you are looking for a quiet, more natural setting for your stay, check out Tiwi Beach. This beach is located at the southern end and it does not have any large hotels or resorts. It is a tranquil getaway that draws fewer people making it a more private place to enjoy your holiday. The reef is close which makes for wonderful ocean swimming. You will not find panhandlers or many merchants here; just a few restaurants and some laid back activities. Tiwi Beach is the perfect place if you're looking for peaceful getaway.