The Best Mombasa Beaches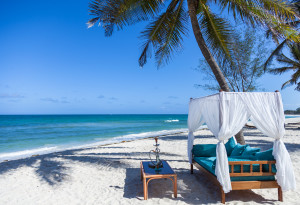 The many stunning beaches stretching from Mombasa to the Tanzanian border are a big part of city's draw. With a more laid back atmosphere than many other coastal east African cities, Mombasa is a great place to unwind and enjoy great sun, sand, and surf on its 500 kilometers of white sand beaches. Here are the top beaches surrounding Mombasa:
Nyali Beach
Of the many beaches in the area, Nyali is the most easily accessible. It lies directly north of the city and is home to some of the most popular hotels in the region. The beach has a great lagoon that makes it a prime location for kite surfing. There are many activities available here through the hotels and various vendors.
Malinda Beach
If you're looking for snorkeling, scuba, and reef watching, Malinda has a large selection of areas for you. It is also a great location for big game fishing at different times throughout the year because of an increase in fish population caused by trade winds and tropical currents. There are many resorts here as well as numerous private guesthouses located along the deserted beaches and throughout the forest. Malinda Marine Park is a premiere location for snorkeling and diving and brings many water sports enthusiasts from around the world to the Mombasa area annually.
Diani Beach
Head south from Mombasa for another international tourist destination, Diani Beach. Here the white sand beaches are exquisite and the water is tranquil. The reefs around this area have created a perfect condition to protect the waters and make a great swimming spot. The beaches are lined with souvenir stalls, beach houses, and luxury resorts and can often become rather full during the high season. If you like a bustling beach holiday, Diani Beach is the place to go.
Bamburi Beach
If top notch restaurants and bumping nightclubs are more your scene, Bamburi Beach is just north of the city. It is also a great location for water sports such as snorkeling, scuba diving and water skiing. Camel rides on the beach and dhows cruises also are available from here.
Tiwi Beach
For a more romantic and secluded beach holiday, head to Tiwi. This is a quiet southern beach that does not have any of the large hotels or resorts that many of the other beaches do, making it a tranquil getaway spot. The reef here is also very close – perfect for swimming. You will not find panhandlers or people selling goods here; just few restaurants and activities. Most cottages are either self-catering or have small restaurants attached to them. If you are seeking a peaceful getaway, Tiwi Beach is for you.