Castle Royal Hotel Mombasa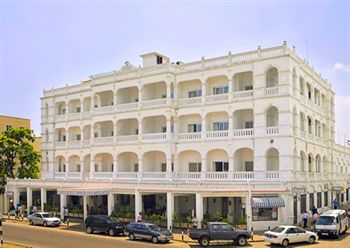 Situated in the heart of Mombasa on Moi Avenue, Castle Royal Hotel is a hundred year old colonial landmark. As the second largest city in Kenya, Mombasa is culturally diverse as well as having a great historical background. It is an island city connected to the mainland by bridges. The coastal city offers white sandy beaches, plus coral reefs. The hotel is only a 25 minute drive from Moi International Airport, and provides easy access to many sites throughout Mombasa.
Recently renovated inside and out, the rooms have been refurbished with air conditioning, electronic safes, electronic door locks, UPVC sound-proof windows, refrigerators, high speed internet access, and satellite television. While retaining its white-washed colonial features on the outside, there are 68 en-suite rooms in the four storey hotel, with each room offering a double or single bed for single, double or triple occupants. At check-in, guests are treated to a welcome drink upon arrival. For business groups, the hotel offers four conference rooms with different seating accommodations plus banquet services. Other services include laundry services, room service, gift shop, casino, and currency exchange. Included in the room rate is a complimentary breakfast in the morning.
In addition to common guest services, the hotel has a coffee bar, and Long Bar and Restaurant. The restaurant serves international and Swahili cuisine as well as providing picnic lunch boxes for travellers. Evening music entertainment is offered each Friday. Although the hotel doesn't offer scores of on-site activities, there are many attractions nearby. Historic Old Town and Fort Jesus are only 10 minutes away. Old Town offers visitors a unique perspective about the Arab influence in Mombasa and Fort Jesus is a historic Portuguese fort constructed in the 16th century and was declared a World Heritage site by UNESCO in 2011.
Other major attractions include the Mombasa Tusks which was dedicated to Queen Elizabeth's visit in 1952. There are many historic sites around Mombasa, there are several nature and wildlife parks to visit for those looking to get out of the city. Haller Park is a popular animal sanctuary with a variety of animals, reptiles, insects, and botanical gardens. A unique sanctuary, Haller Park was created out of a quarry wasteland. Mamba Village is another wildlife park, that is, East Africa's largest crocodile farm as well as other reptiles and animals. With many sites to see, the white-sand beach is another place to be as well as participating in numerous water sports and activities.