Enjoy Kenya's Beautiful Bamburi Beach at the Bamburi Beach Hotel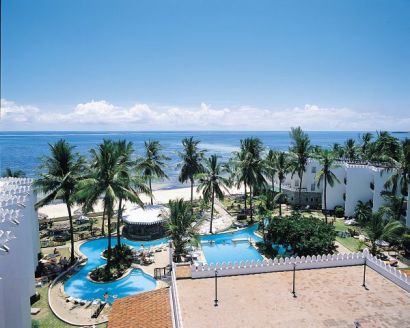 Bamburi Beach is one of the most beautiful beaches along the coastal town of Mombasa. It has a number of well laid out hotels along the Indian Ocean coast. For visitors coming to spend their holidays with their family members, Bamburi Beach Hotel offers the perfect setting for spending the holidays. This beach hotel has been rated highly by customers and also the travel industry. It has been rated among the top 10 beach hotels and family Hotels in Kenya. One of the major features of this hotel is the location of their swimming pool in a palm tree island setting.
Sports and Outdoor Facilities Available at the Hotel
If you are a sports enthusiast hoping to spend many hours playing sport, then there are 2 squash courts available at the hotel site. There are also facilities for playing games like billiards, bowling and darts. If you have a penchant for outdoor activities, then the hotel staff will be able to assist you by providing the required gear needed for performing snorkeling, wind surfing and fishing. After engaging in water-based activities, you can relax in the massage center located within the Bamburi Beach Hotel, or lounge at the outdoor swimming pool.
Amenities Provided by the Hotel
There are in total 150 rooms in the hotel, and all the rooms are equipped with excellent features like a private balcony, air conditioning, mini bar, DVD Player, cable television and a phone. You can make use of the complimentary Wi-Fi high-speed internet access provided in all the rooms. The hotel has two separate restaurants. One restaurant serves buffet food, while the other serves a la carte food. There is also the Karibu Grill that serves charcoal grilled fish and meat dishes. You can head to the sun terrace that is provided on the top floor to get a bird's eye view of the Bamburi Beach Hotel and its wonderful surroundings.
Other Services Provided
There are a number of guest-friendly services provided in the hotel, including laundry and dry cleaning services, beauty, make up and barber services, ironing services and entertainment. As part of the entertainment services, the hotel employs skilled musicians to provide band music to their guests. The live band will playing along the poolside or at the restaurant on a daily basis. The hotel can also make arrangements for a packaged lunch for when you go on sight-seeing trips in the region. You can even buy some souvenirs at the gift shop located within the hotel facility.