Escape to Mombasa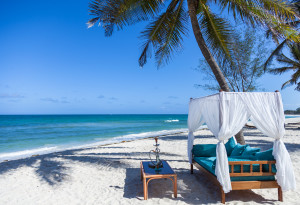 White sand beaches as far as the eye can see, clear turquoise Indian Ocean water, and gentle breezes ruffling the fronds of a hundred coconut palms make Mombasa the perfect getaway. Whether you want to experience a world-class resort or stick to budget accommodations, Mombasa Island offers something for everyone no matter what your budget.
Once you're done lounging on the beach, you can experience the rich cultural treats Mombasa has to offer. A visit to the 16th Century Old Town at Fort Jesus will take you back to the Portuguese era in Kenya. The Gedi Ruins situated in the same vicinity are worth a visit to get a glimpse of East African trading routes during the Middle Ages.
The caves of Shimoni (a nearby fishing village) showcase the colonial British Era. The village is near the Tanzania border and is worth visiting for the architecture and tours of the slave caves. You can also spend the evening on a sunset dhow cruise, which departs from the caves.
If you're interested in Carnival, make your Mombasa escape in November. The atmosphere is vibrant and lively for most of the month. You'll see beautifully decorated floats in a variety of parades that take place during this time. Carnival is a wonderful way to experience different ethnic groups and nationalities as they all come together to celebrate this holiday.
The main parades converge on Moi Avenue and are a blend of music, dance, amazing costumes, and creative art. Stalls selling local cuisines and handicrafts are set up all along the parade route. This is a big event that is famous throughout the world.
For those interested in local art and crafts, the Bombolulu workshop is a must see. The workshop is run by the Association for the Physically Disabled and features handmade textiles, weaves, wood-carving and traditional bead-work. Visitors can buy souvenirs and support the association.
For food aficionados, Mombasa's many local markets hold a treasure trove of exotic tastes. The City Market in Mombasa gives you a glimpse of the local produce, shopping habits and daily life of the locals. Take a trip to the picturesque Floating Market in the oceanfront, which stocks traditional goods and fresh produce. The Nakumatt Nyali center is for a more sophisticated experience of restaurants, boutiques, and malls.
When you want someone else to do the cooking, you will have plenty of fine restaurants from which to choose. Fresh-caught local seafood, tropical fruits and local vegetables are abundant. Apart from the local Swahili delicacies and game-meats, a variety of international cuisines like Japanese, TexMex, Indian, and European are available. South African wines, Kenyan coffee, and delicious fresh coconut water and milk are great thirst-quenchers.