Milele Beach Hotel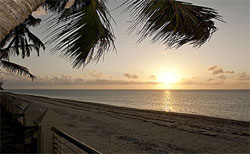 Formally called Giriama Beach Hotel, the Milele Beach Hotel is the top non-alcoholic hotel in Mombasa. The hotel is set on 9 acres of tropical gardens that overlook the Indian Ocean. It is designed in traditional Swahili architecture for authenticity.
The hotel is all about comfort and relaxation. The atmosphere is laid back and the staff is friendly without being obtrusive. The hotel is nonsmoking and non-alcohol. It is family and health friendly.
Milele sits roughly twenty minutes (10 km) north of the city. It is within walking distance of Haller Park (Bamburi Nature Trail) and a large shopping mall.
The hotel prides itself on its healthy stance. The goal is to promote high moral values and flow better with nature. The hotel is a wonderful place for a wedding or other special event. They have their own "event team" of highly skilled people who go to great lengths to see your desires satisfied. There are special areas reserved for events like their "secret garden" where ceremonies generally take place.
The hotel offers two swimming pools with nearly endless activities, from water polo to aerobic sessions, pool to table tennis, and much more. There are also many beach activities you can participate in such as darts, beach volleyball, surfing, snorkeling, and scuba diving. Or you can simply relax by the pool with a soft drink or fruit juice and take in the sun or a local cultural performance.
Live music and performances take place almost every night. One of the regular groups perform traditional Maasai dances, which are not to be missed. The hotel also has its own restaurant featuring traditional Kenyan as well as international cuisine.
The hotel is also keen to accommodate business travelers. They offer competitive rates for their conference rooms and amenities. Staying at the hotel is not required in order to have your conference hosted there. They are currently the leading destination for many corporate firms including government agencies, NGOs, and religious organizations. It doesn't matter what you call your conference – a seminar, workshop, brainstorming meeting, or even just a party; the staff will do everything they can to meet the needs of all your attendees.
The facilities are modern. They have five large conference rooms, each equipped with a LCD and overhead projector, DVD player, PA system, cordless microphones, and whiteboards – everything you need to run a successful conference.
Milele is different than many of the other hotels in Mombasa and could be just what you're looking for. If you have any questions about the hotel or with planning your trip, visit Find Mombasa Hotels and give us a call at +254 (0) 736 441 397.