Mombasa Holidays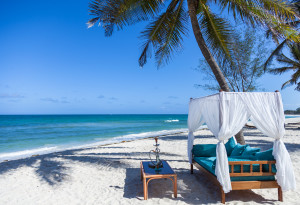 Mombasa is an island off the coast of the Indian Ocean and is Kenya's second largest city. It is connected to the mainland by bridges built over two creeks that separate it from the mainland of Africa. It is such a popular destination that is has both a port and an international airport to serve travelers.
The climate of Mombasa is typically hot and humid like most tropical areas. It is known for its beautiful white sand beaches. The North Coast of the island has a reputation for non-stop day and night entertainment in the form of nightlife, clubs, pubs, bars, discos, restaurants, and activities for families and water-sports aficionados. Adventure lovers can have their fill of mountain biking, hiking, and trekking through the parks and forests in the area.
Fort Jesus is one of Mombasa's top cultural attractions. It is a high-walled old fort and museum that can be visited during the day. The narrow streets surrounding it are lined with coffee shops, local artisans selling wares, and other hole in the wall type places to soak up local culture.
For those more interested in the beaches, Bamburi Beach is the top tourist spot in Mombasa. Whether you simply relax in the sun or take a swim in the turquoise water of the Indian Ocean, beauty surrounds you. This beach has a tendency to become crowded so if you want a more secluded destination, take a trip to the South Coast. Diani Beach has all the beauty of Bamburi but far fewer people.
There are nearly endless types of accommodation to choose from in the area. You can rent self-service apartments, stand alone bungalows, private villas, five star hotel rooms, and even budget accommodations. Whatever is best for your budget and your needs, you will have no trouble finding them.
Mombasa is rich with wildlife as well. There are several nature trails and reserves you can spend your days wandering through. You're likely to spot giraffe, ostrich, antelope, and a huge variety of birds. There is also a marine park for those interested in the various sea life in the area.
Mombasa is well known as a culinary destination. The wide variety of cultures that meet in the area have made a huge impact on the local cuisine. It is a seafood lover's paradise and most of what you eat from the sea will have been caught just hours (sometimes even minutes) before. You can also sample dishes made from exotic game, as this is included in many Swahili delicacies.
There is no shortage of things to do and enjoy in Mombasa. If you're planning an African holiday, call Find Mombasa Hotels. We'll help you plan the perfect getaway.