Scuba Diving In Mombasa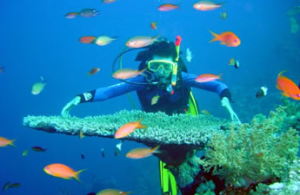 Mombasa Marine Park sits just offshore from the city of Mombasa. It spans about 200 km and is easily reached by boat. The scuba area is a small part of the national reserve, covering just about 4 square miles.
Patrolled by Kenya's wildlife service, and offering diverse marine life as well as natural wonders topside, this portion of the park extends from the Mtwapa Creek mouth south to Likoni. With spectacular reefs at depths from just a few feet to beyond diving limits, Mombasa Marine Park provides perfect diving for all skill levels.
If you're a beginner or prefer snorkeling, Serena and Bamburi Reefs are shallow sites where you'll see colorful coral, large and small reef fish, and possibly even a young reef shark. Remember to look but not touch. This area is populated by some small yet dangerous species including Stonefish that look very much like lumps of coral or small rocks; they and the Scorpionfish and Leaf Fish you'll sometimes encounter pack a powerful sting.
Along the outer edges of the reef, watch for species like Tuna and Trevally, and the occasional Stingray; you have a good chance of spotting some turtles here as well. During the monsoon season, visibility at these reefs is normally about 25 feet; during the remainder of the year, you'll enjoy visibility at better than 40 feet most of the time.
For slightly more advanced diving, visit Nyali Corals, Ras Mkungombe, and Lucky Chance. Between May and August these sites can be plagued by mild currents but will be calm the rest of the year. With beautifully vibrant corals and sponges in an astonishing array of colors, these sites offer some small shipwrecks as well as some underwater caves.
The marine life you'll encounter along the way is spectacular; large groupers and shoals of sweepers can be found inside sheltered areas, while shoals of yellow and blue lined snappers are everywhere. In addition, the site is home to octopi, lobster, moray eels, stingrays, and even the occasional ribbon ray.
Mombasa Marine Park even caters to non-divers. Take a glass bottomed boat tour to experience a "dry" snorkeling experience. There are trails to explore, plus you can spend as long as you like lounging on the beach watching the birds and wildlife. Mombasa itself has plenty of accommodations at various levels, and local dive operators are friendly, accommodating, and well equipped. An outstanding place to spend a day or two, Mombasa Marine Park is a treat for everyone.