Shimba Hills Lodge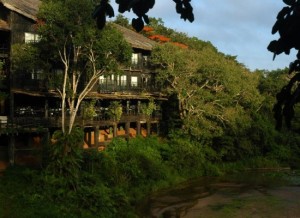 This hotel, located on Aberdare National Park, Shimba Hills National Reserve, is near Pink Sands Beach, Exuma Cays Land and Sea Park, Tarpum Bay, and Rock Sound.
The lodge is actually situated in Kenya's conserved remaining habitat of the Rare Sable Antelope, Shimba National Reserve, is the Shimba Hills Lodge overlooking a waterhole. The Lodge is set 45 minutes from the Indian Ocean and about 50 km from Mombasa in the heart of an ancient tropical rain forest inside the Reserve.
The lodge stays refreshingly cool in its forest setting despite being only 45 minutes drive from the hot, humid coastal city of Mombasa (and 30 minutes from the South coast resorts of Diani).
The lodge overlooks a waterhole and is bird lovers' paradise. Dramatic black and white Colobus Monkeys, herds of Elephant and graceful Giraffes are often seen at Shimba. For the very fortunate, the Leopard will make a rare appearance. A wooden walkway extending into the forest leads nature lovers to great unobtrusive birdlife viewings. Other adventures await you like a visit to Sheldrick Falls, or an evening game drive followed by a walk through the forest that could end up with drinks and snacks in a glade. All rooms have balconies overlooking the waterhole. The lodge also boasts a restaurant under a veranda. Enjoy the beautiful sunsets and sunrises at the lodge's sundowner site.
Accommodations:
Shimba hills lodge has 67 rooms which comfortable and uniquely furnished, some with the gnarled trunk of a tree providing a natural centerpiece, and others overlook the waterhole.
Suites have their own bathrooms while Single, double and triple rooms have access to toilet and shower facilities.
The open fronted dining room allows unrestricted game and bird viewing at all times, and an elevated walkway extending well into the forest gives peace seeking visitors a few rare moments alone with nature.
Major Attractions:
– Sable Antelope
– Elephant habitat
– Sheldrick Falls
– Various view points
– Mwaluganje Forest
Wildlife:
Include Endangered Sable Antelope, Elephants, Giraffes, Leopard, Genet, Civet cat, Hyenas, Waterbuck, Bush pig, Buffalo, African Bush Baby, Bushbuck, Coastal Black and white Colobus, Blue Duiker, Bush Duiker, Red Duiker, Greater Galago,Black-faced Vervet Monkey, Sykes Monkey, Serval cat, Black and Red Shrew, and Knob-bristled Suni Shrew.
Birds:
111 bird species have been recorded, of which 22 are coastal endemic among them are: Ostrich Eagle, African Hawk; Falcon, Cuckoo; Guinea-fowl, Kenya Crested; Honey guide, Greater; Hornbill, Crowned; Quail, Blue; Sunbird, Uluguru
Reptiles:
Python, Cobra, Lizard, and Gecko.
Insects:
Butterflies, mosquito, beetles