Spotlight: 3 Top Mombasa Hotels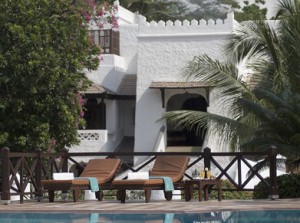 2,000 years of culture imbue Mombasa with an aesthetic matched by no other place on Earth. It is a crossroads combining beautiful palm-fringed beaches with an ancient city shaped by the various influences of Portuguese, Arabic, British, African and Indian cultures. As an important and historic port city, Mombasa has received visitors for thousands of years and continues to welcome tourists today. There are few familiar chain hotels in Mombasa, but for a truly unforgettable experience take a look at these three high-end hotels.
Severin Sea Lodge
Located at Bamburi Beach, Severin Sea Lodge is mere steps from the Indian Ocean with a breathtaking white sand beach view. You can choose from any of the 200 guest rooms or stay in the more secluded beach bungalows. Guest rooms feature either Arabian-style furnishings or traditional carved furniture reminiscent of Lamu Island. Air conditioning and wireless Internet access are standard, and guest rooms in the main building all have a private balcony or terrace. Upgrade to a superior room to enjoy an LCD-screen television and a complimentary fruit basket in your room.
If you need a premium amount of space, ask about the Admiral Suite. The ocean view from the suite is incredible and it also offers a large living room, a kitchenette, dressing room, and bar. All guests enjoy access to two swimming pools, a satellite television room, an Internet café, and a mini-supermarket. The onsite IMANI Dhow restaurant is a notable attraction of the hotel. It is a restaurant converted from an old sailing boat that specializes in seafood.
The Serena Beach Hotel
Modeled after a 13th Century Swahili town the Serena Beach Hotel is a wonderful place to stay. No detail was overlooked in the design – it is complete with artistically carved balconies overlooking traditional-style courts and squares. The hotel overlooks Mombasa National Marine Park and a white sand beach. There is a swimming pool and a swim-up bar with a thatched roof, perfect for unwinding after a day on the beach or exploring the city.
All the guest rooms have air conditioning, satellite TV, and complimentary bottles of water. You can also request a mosquito net if necessary. There are 164 rooms total in the hotel. Choose from "village" or "garden" rooms, family rooms and suites, some of which offer ocean views. Take a leisurely walk through the Butterfly Garden on the hotel grounds; indulge yourself with a spa treatment; or enjoy complimentary water sports including scuba diving, snorkeling, catamaran and glass bottom boat tours. A free guest shuttle to Mombasa town is also provided.
Travellers Beach Hotel
Another hotel located on Bamburi Beach, the Travellers Beach Hotel is a popular North Coast accommodation for those looking for somewhere special to stay. You have the choice of standard, superior, or suite in terms of rooms. The superior rooms have an additional living room and four-poster bed. There are also suites that include a furnished dining area, spacious living room and a Jacuzzi bathtub. Suite guests enjoy views of the ocean from a private balcony. Standard in-room amenities include satellite televisions, bottled water, tea- and coffee-making facilities and air conditioning.
The on-site dining at Travellers is spectacular as with many high-end hotels. To make your stay that much more enjoyable, top chefs run these places and offer culinary creations you won't find anywhere else. You can choose from traditional Indian or Italian with Sher-E-Punjab and La-Pergola. Shibe Restaurant serves a daily breakfast buffet; and Suli Suli Grill offers poolside food and drinks. Room service is also available 24 hours a day. The hotel also features a gymnasium, massage parlor, swimming pools and a spa.