PrideInn Paradise Beach Resort – Half Board
PrideInn Paradise Mombasa
PrideInn  Paradise is  one of the elite 5 starred properties on the Kenyan Coastline on Shanzu Beach. The highlights are the Aqua Park Resort, a kids paradise and the largest convention center on the Kenyan coast.
Try the  the first and only Aqua park in Mombasa, Kenya beside the Indian ocean.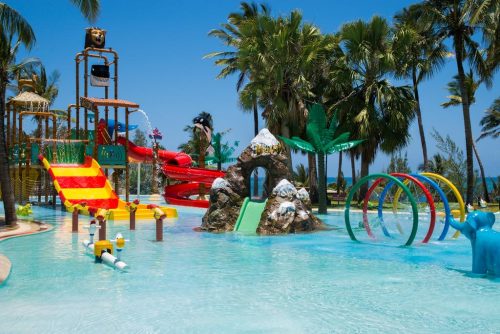 The safari themed aqua park has a central water playground with various aqua play attractions and 4 different pool areas for adults and kids.
PrideInn Paradise has four unique pools, a state of the art GYM , a dynamic Kids Club and beautifully located and designed lounges provided a unique one in all experience from business to leisure
The accommodation at PrideInn Paradise  is homely yet cosmopolitan with airy rooms available for the corporate traveller to families and children. All rooms have a  balcony and complimentary WIFI.
We also offer rooms that cater for accessibility needs.
Every room is equipped with a worktable and a flat-screen TV. Rooms have an en suite and secluded bathroom, whilst other rooms at PrideInn Paradise Beach Resort have a balcony view. The rooms at the accommodation feature air conditioning and a wardrobe.
Pricing is also available for Single Room, Single Traveller, Child Sharing, & Extra Nights
To get the best hotel rates and to check room availability, complete and the form below and click on "Get the Best Rates":