North Coast Mombasa Beach Hotels
Whether you're looking to travel to Mombasa, Kenya for some well deserved rest and relaxation or simply for business, the accommodation options in the North Coast are ample and cater for all pocket sizes.
For the hedonistic traveler, there are a number of four and five star beach resorts that line the North Coast of Mombasa, some of which offer an all-inclusive deal for their guests. Located on wide stretches of palm fringed, powdery white sandy beaches, these Mombasa resorts have an atmosphere reminiscent of Swahili culture. With air-conditioned, beautifully designed deluxe suites and standard rooms either facing the sea or lush gardens, these luxurious hotels have a wide selection of well equipped rooms to choose from. The rooms also generally are equipped with satellite TV, mini bars and a safe. There are also conference facilities available for those who are in Mombasa on business.
Most Mombasa beach resorts have more than one pool and a choice of bars and restaurants that are open throughout the day. Entertainment is provided by local bands and traditional dancers while you enjoy your dinner. Hotels such as the Sarova Whitesands and Serena Beach Hotels have in-house health and beauty spas which offer a variety of treatments to help you relax and rejuvenate. There are also gyms, tennis and squash courts, yoga and aerobics classes available on the hotel grounds. For those travelling with children, there are children's clubs and activities organized to help keep the little ones entertained while you enjoy your sporting activities.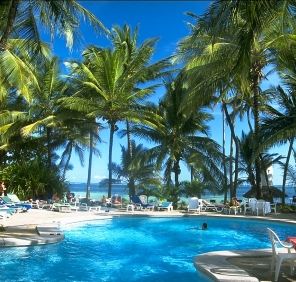 If you're not fussed about expensive Egyptian cotton sheets and Italian tiled bathrooms and are looking for a more homely environment away from the crowds, there are self-catering, fully equipped beach cottages available in Mombasa. In most cases, you can hire a cook cum cleaner at a negotiable, reasonable rate. These are ideal for groups of people or families travelling together.
For those looking to escape the beach culture, Mombasa has a number of hotels located in the heart of town such as the colonial style Castle Royal Hotel located just ten minutes from Mombasa's Old Town and the tourist hot-spot Fort Jesus. Furnished and self catered apartments such as the elegant Tamarind Village Apartments are ideal for business travellers looking for a quiet environment or if you're planning to be in Mombasa for a longer period.